Post by Clarence Creedwater on Aug 22, 2016 18:26:59 GMT -5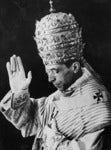 Let's break this down:
1. The Pope was only speaking as a private theologian, not as Pope.
2. The matter was not yet settled by the magisterium.
3. When challenged, the Pope ordered the matter to be studied by the theologians.
4. The Pope specifically stated that he never meant to teach contrary to the Scriptures or the rule of Faith.
5. The Council of Lyons had not settled the specific question of what the state of beatitude consisted, the very point of contention in this case.
6. The matter was resolved by Pope Benedict XII, John XXII's successor.
7. At no time had the Pope contradicted the teaching of the previous magisterium. He privately taught on an unresolved matter, and was open to correction, which in the end he accepted. It was only after his death, that the magisterium ended the controversy and bound Catholics to adhere to correct belief on what the state of beatitude consisted.
This was posted as a new thread here because in another thread I made mention of John XXII in a fashion that Pacelli did not agree with. I think Pacelli misunderstood.
I already knew that John XXII was not a heretic. My concern was in the use of the word "public" as opposed to "occult" heretic. St. Francis de Sales (Doctor of the Church) made mention of him in an interesting context that can prove enlightening:
"Thus we do not say that the Pope cannot err in his private opinions, as did John XXII; or be altogether a heretic, as perhaps Honorius was. Now when he is explicitly a heretic, he falls ipso facto from his dignity and out of the Church, and the Church must either deprive him, or, as some say, declare him deprived, of his Apostolic See."
My point is, that even though the controversy of John XXII definitely involved an error opposed to the truth, he did so in his "private opinions", but those
private
opinions were not "occult" as they were expressed
publicly
in sermons. The problem then arises with the meaning of "public". You see, canon law will talk about public and notorious, and to the unlearned in canon law it may frighten them that John XXII should have lost his office. This is where the confusion comes in - the pope is above canon law, so these terms do not apply to him. Only divine law does. That is why all the quotes about a pope and heresy talk about manifest or explicit heresy. The mere fact of it being known publicly is not sufficient to have him lose his office (which could happen to other clergy through canon law and lesser offenses). Look at the quote again by St. Francis de Sales. He place John XXII and Honorius in ANOTHER category than a pope who
ipso facto
loses his office. It's important to see this difference between being simply known "publicly" and being "explicit" (or as St. Robert said "manifest"). It's important, you see, because Honorius was just at the borderline of being an explicit heretic, and all he did was recommend to a Patriarch in the east inaction in the face of a heresy. When you compare that borderline case with what the "popes" of Vatican II are doing in EVERY organ of the Church communication with the faithful, it is MORE than obvious these men promoting Vatican II are false popes like night and day. If one doubts it after all this explanation, then one has a problem with certitude, which is a malady I truly feel sorry for.