Post by Pacelli on Nov 10, 2019 14:03:46 GMT -5
The following are photos of the Vatican tree planting ceremony held at the Vatican as part of the Amazonian Synod. The woman at the center of the event, Ednamar de Oliveira Viana, gave a public statement as to the nature of this ceremony, which is pictured below (bottom photo). Oliveira Vienna's statement makes it clear that this was a Pagan ceremony, and the photo below of Francis shoveling dirt for the planting is direct evidence that he actively participated in it. The context of the ceremony also supports the view that this Tree planting was certainly a Pagan rite, as Pagan idols of the false god, Pachamama were present, (see photo below) and Francis was fully aware that these statues were not Catholic and were statues of Pachamama from his own admission linked
HERE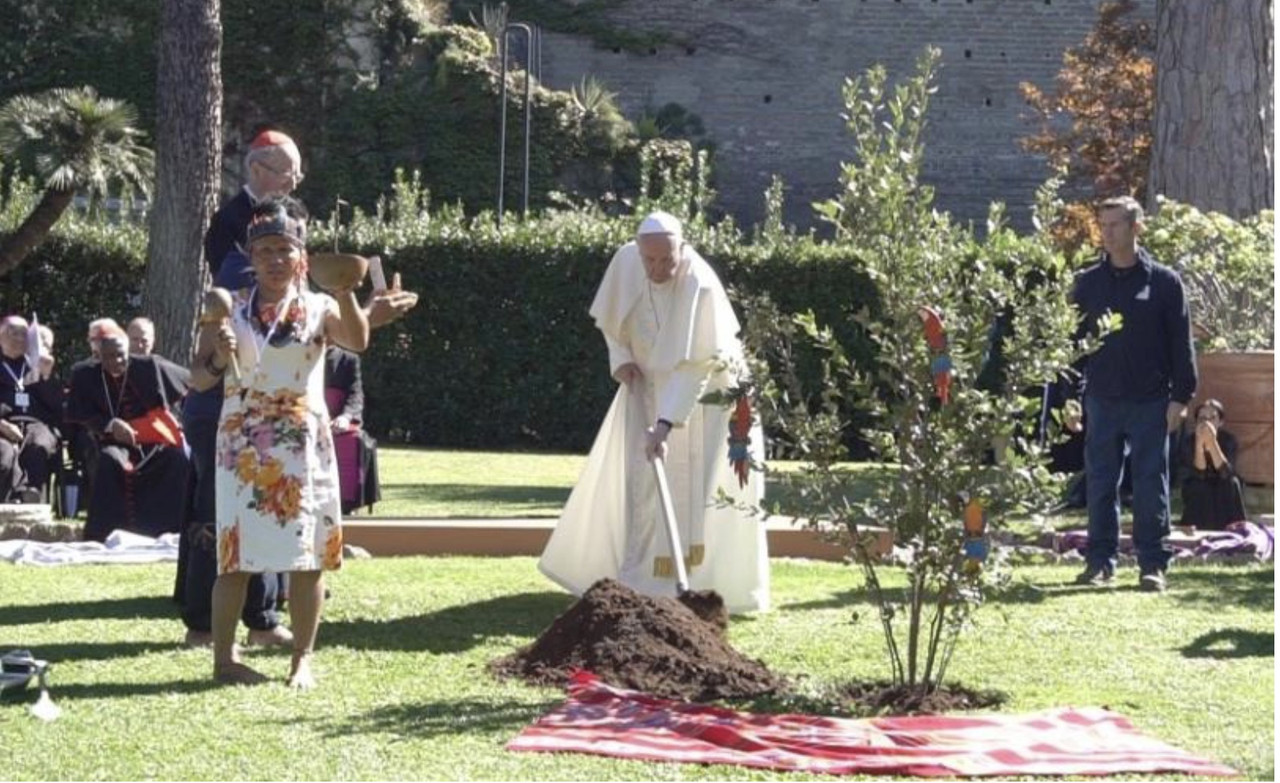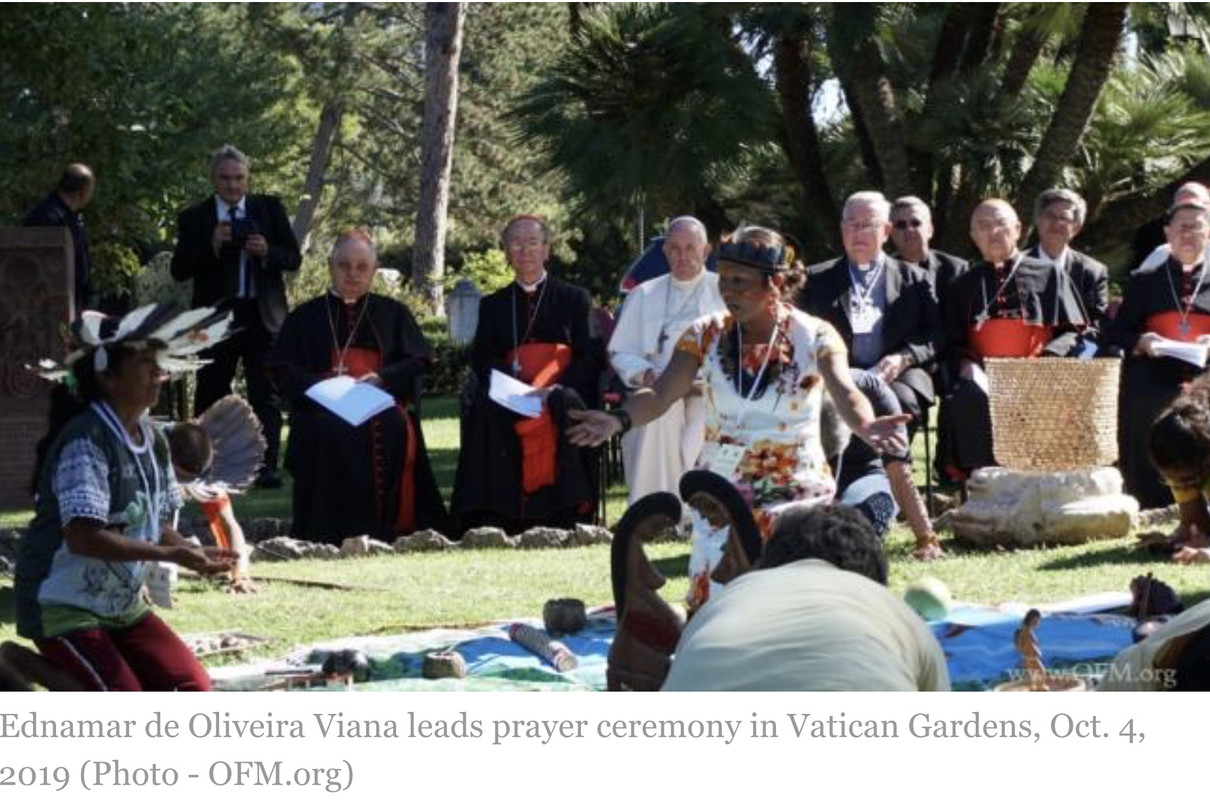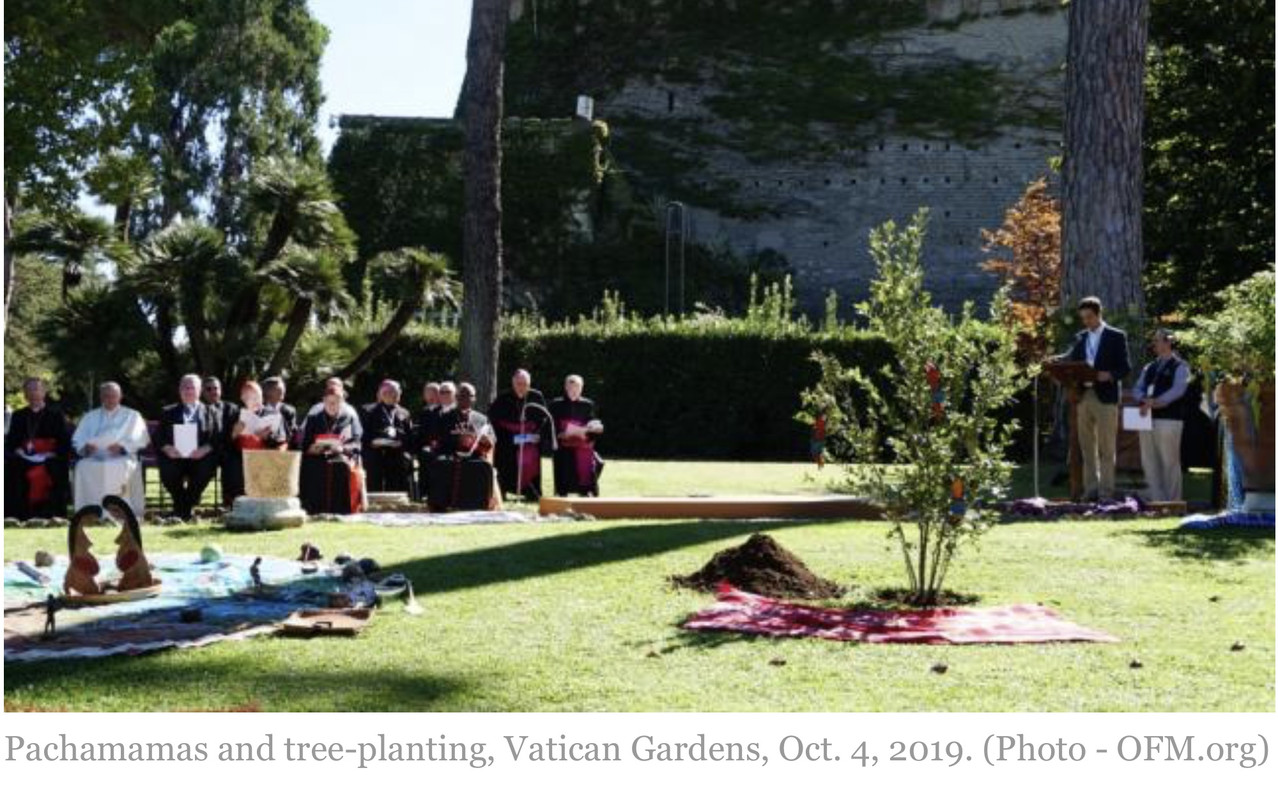 Amazonian woman who led Vatican tree-planting ceremony reveals its pagan significance
ROME, November 8, 2019 (LifeSiteNews) —
The female indigenous leader who planted a tree alongside Pope Francis in the Vatican Gardens ahead of the Amazon Synod was clear from the beginning about the syncretistic and pagan meaning of the act which, she explains, was intended to "satisfy the hunger of Mother Earth" and reconnect with "the divinity present in the Amazonian soil."
In an
October 4 statement
that went under the radar during the Synod itself,
Ednamar de Oliveira Viana, of the Maués region in Brazil, says of the Vatican Garden tree-planting ceremony: "To plant … is believing in a growing and fruitful life to satisfy the hunger of Mother Earth's creation. This brings us to our origin by reconnecting divine energy and teaching us the way back to the Creator Father."De Oliveira Viana, who also guided participants in bowing down around the Pachamama statues during the October 4 ceremony, said regarding the event: "The Synod is to plant this tree, water and cultivate, so that the Amazonian peoples are heard and respected in their customs and traditions experiencing the mystery of the divinity present in the Amazonian soil."
Portions of Ednamar de Oliveira Viana's statement (not including those mentioned above) were included in an official press release issued in Rome on October 4 by the Vatican Garden ceremony organizers, including REPAM (Pan-Amazonian Ecclesial Network), The Global Catholic Climate Movement, and the Franciscan Order (OFM).
The indigenous leader's full statement can be found, in English and Portuguese, in a link at the end of paragraph five of the press release. The edited version of her remarks, and photos of the Vatican Garden tree-planting ceremony, are also available on the international Order of Friars Minor (Franciscan Friars) website.
The press release also noted that the Vatican Garden tree-planting ceremony was Pope Francis's first gesture to mark the Season of Creation, held annually from September 1 (the "World Day of Prayer for Creation") until the October 4th feast of St. Francis of Assisi.
SOURCE