Post by Pacelli on Nov 6, 2019 0:17:34 GMT -5
On August 1, 2002 at the beatification "mass" of Juan Bautista and Jacinto de los Angeles, John Paul II participated in the Pagan ritual called a "Limpia.". The photo shows John Paul II accepting the Pagan blessing by the woman who is the minister of the ritual. The articles below were from news reports of the event. The final article is an explanation of what the "Limpia" ritual is from a Pagan source. A Google search of the Pagan rite would turn up much more.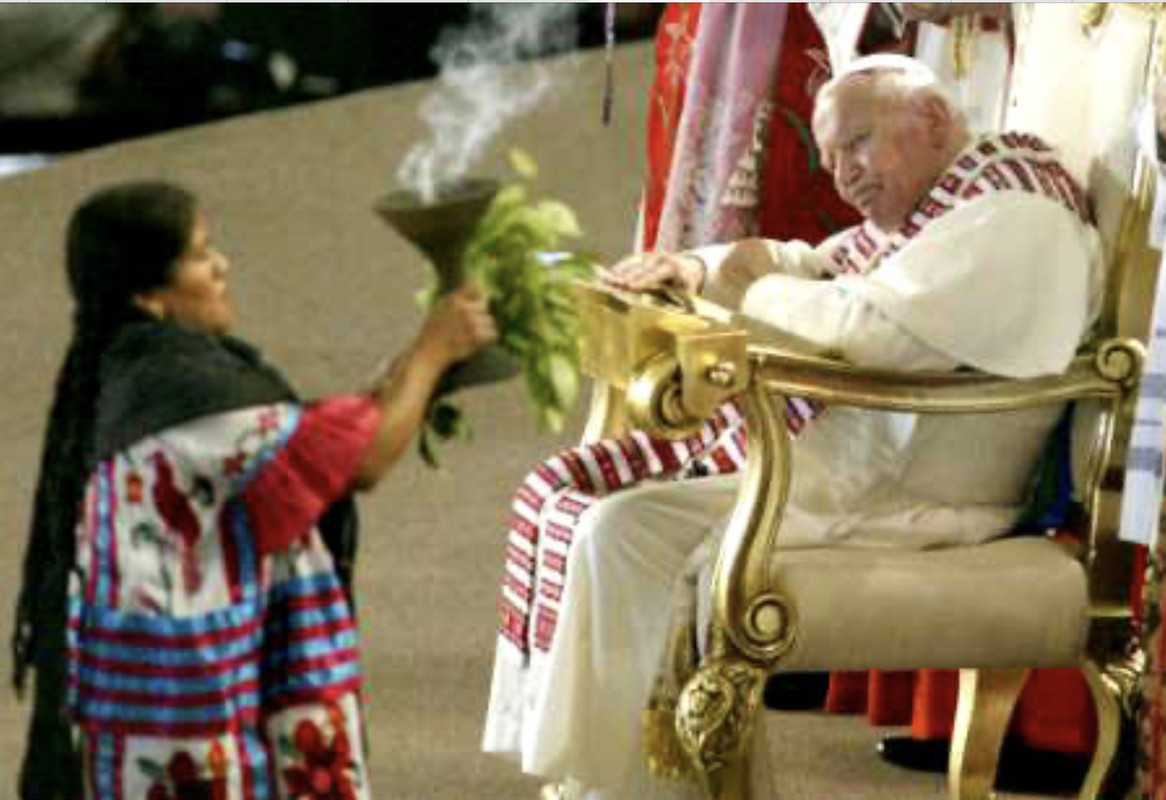 From the National Catholic Reporter, January 3, 2003:

On his 2002 outing to Latin America, John Paul came to promote an indigenous Christianity, responding to the inroads of evangelical Protestant groups among indigenous populations. He canonized Juan Diego, an Aztec visionary to whom Our Lady of Guadalupe is said to have revealed herself, and beatified two 18th century Zapotec Indian martyrs, Juan Bautista and Jacinto de los Angeles.
During the latter ceremony, Indian women bearing smoking pots of incense brushed branches of herbs on the pontiff in a limpia, or purification ceremony that is believed to cure spiritual and physical ailments by driving off evil spirits.
This sort of thing wounds liturgical purists, but the pope wanted to make a statement that Catholicism and indigenous traditions are compatible. Yet in the same year, John Paul's Vatican cracked down on a similar effort in southern Chiapas, where two bishops in a row, Samuel Ruiz and Felipe Arizmendi, had aggressively pursued the training of 344 Indian deacons. Many indigenous communities, they argued, do not respect celibate priests, but have higher esteem for married deacons with families.
SOURCE
From The Houston Chronicle, August 2, 2002:
When the pope declared the duo as "blessed," or beatified, the basilica erupted in cheers. Nine Mazatecans with large plumed headdresses performed the Dance of the Feathers, their leaps and strides matching the colorful performance of the Aztec dancers at the canonization of St. Juan Diego.
Indian women bearing smoking pots of incense brushed branches of herbs on the pontiff, Cardinal Norberto Rivera Carrera and other prelates in a limpia ceremony. The common Indian blessing is believed to cure spiritual and physical ailments.
John Paul, who appeared energized by the festive crowd, said Bautista and de los Angeles should "motivate the Indians of today to appreciate their cultures and languages, above all, their dignity as sons of God that others should respect within the context of the Mexican nation."
SOURCE
So, what is the Limpia ritual that John Paul II actively participated in? The following is from a Pagan website that explains it in detail. I have only quoted part of it as it is long, but if anyone needs to know more, the source is cited at the end.
From La Limpia: The Andes Energy Cleansing and Rejuvenation Healing Ceremony, Itzhak Beery:
The highly effective and rarely understood
La Limpia – The Andean traditional energy cleansing ceremony–is frequently used whenever people get emotionally and physically sick. They may attract bad luck, cursed, envy, evil eye, or have problems in relationships or money; some may contract entities attachments, possession or other misfortunes.
It is a simple yet powerful physical, emotional and spiritual purification process that can rebalance the energy field, by removing or extracting stall and negative energies and replace them with positive vibrations, renewed vigor, and optimism.
For millennia's La Limpia, is practiced by the Yachaks–birdmen and women–curanderos, shamans, and healers
–to ensure the well being of their communities. It is a multi-component physical and spiritual energy purification system. Limpias are also used to cleanse participants of shamanic ceremonies before entering a ceremonial space to maintain the purity of the sacred space and to rebalance homes and land.
Each of the elements (earth, fire, air, water) and tools (Trago-sugarcane rum, eggs, candles, smoke, flowers, herbs, plants, perfume, spears, and stones) used throughout the ceremony carries a spiritual symbolism and scientific reasoning. La Limpia transforms the egg-shaped electromagnetic field
–the illuminating body–surrounding our physical body, which gets contaminated by our life's bad energies such as traumas, memories, attachments, connection to ancestors, and other negative energies. It removes anger, curses, envy, bad air, energy attachments, and spirit possession. Hence, it creates a new surge of upbeat, positive energy, which allows for new clarity, better sleep and for true healing to take place.
SOURCE