Post by Pacelli on Feb 4, 2019 17:17:18 GMT -5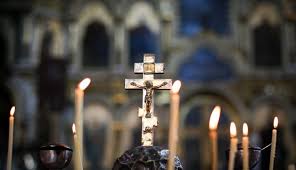 I agree...the fact that the Byzantines and Ukrainian Churches are now ecumenical maniacs for all things orthoduck is a great scandal to me. In our regular bulletins we get frothy stories of how wonderful it is since the Ukranian crisis that antirussian orthoducks are on the ascendency in Ukraine...for no other reason then they are against Russia. The Ukrainians suffer from Putin derangement syndrome....so much so that they chuck out the Dogma...EENS. Do they forget it was the orthoducks that betrayed the uniates and Roman Catholics to the Jewish Bolshevics under stalin and were in bed with all the Iron Curtain dictators right up to the fall of the USSR...There can be no reproachmon with the ducks until they recognise the Papacy as the Head of the Universal Christian Church
Actually, I prefer the upstate PA terminology of "Orthodog" instead of "Orthoduck." In all seriousness though, I will lay down something heretical that will cause many to shout "Crucify him! Crucify him!" . . . One part of my family is Ukrainian Greek Catholic, another part of my family is of the American Carpatho-Russian Orthodox Church.
(Insert Indiana Jones gif of Belloq's head exploding after opening the Ark of the Covenant here . . .)
I agree that it is not good for us to be in a state of severe Schadenfreude regarding the Russians, although the Russians are not without blame either. They are just as bad as us when it comes to politicizing the Church as a weapon to use against each other, and are just as corrupt as other Church hierarchs. I have a doctored icon of Jesus Cleansing the Temple that a friend gave to me with pics of the Moscow patriarchs superimposed on the money changers - it is quite funny actually, and ironic, since I can see Jesus doing that to all of our hierarchs, Russian, Ukrainian, Greek, Roman, etc., for all the tomfoolery they have engaged in over the years (if you want a copy, send me a private message . . .) Ultimately, mistakes were made on both sides of the fence; now is not the time to nitpick each other's pimples, but to move on and seek repentance and healing.
I certainly agree with you Father, that personal or historical grievances must be forgiven and forgotten for the sake of the common good and for the ending of the various schisms.
I have never been convinced however, of the Orthodox rhetoric that there have been mistakes on both sides, as I think their allegations against Catholics have been wild exaggerations. The fault of the schism, as I see it is squarely on their part. I would refer to the great historian Fr. Adrian Fortesque who wrote at length of the malicious actions of Photius and Michael Cerularius, which were at the root of the schism. (linked
HERE
) While some criticism could be made against some specific Catholics, not Popes, I think each criticism should be looked at as to whether it was true, and just how serious of a matter it was, if it was true. We owe that to the good name of the Catholics who are being mixed up with the generalization and accusation against our deceased brother Catholics.
The Popes have repeatedly tried to end the schism, offering countless and generous concessions, including allowing the schismatics to have their own quasi-independent hierarchies, not subject to Roman bishops and answerable only to the Pope, allowing the use of the ancient liturgies and even protecting the eastern Catholics from overzealous Roman Catholics who would Latinize them, the retaining of married clergy, and the list could go on.
While I have no problem apologizing if I am wrong, I will not apologize if I am not wrong, even just to keep the peace, To do so is to offend the truth, and it is patronizing the other alleged injured party. In my opinion, this is what Paul VI did when he, in his joint statement with Patriarch Athenagoras said:
3. One cannot pretend that these events were not what they were during this very troubled period of history. Today, however, they have been judged more fairly and serenely. Thus it is important to recognize the excesses which accompanied them and later led to consequences which, insofar as we can judge, went much further than their authors had intended and foreseen. They had directed their censures against the persons concerned and not the Churches. These censures were not intended to break ecclesiastical communion between the Sees of Rome and Constantinople.

4. Since they are certain that they express the common desire for justice and the unanimous sentiment of charity which moves the faithful, and since they recall the command of the Lord: "If you are offering your gift at the altar, and there remember that your brethren has something against you, leave your gift before the altar and go first be reconciled to your brother" (Matt. 5:23-24), Pope Paul VI and Patriarch Athenagoras I with his synod, in common agreement, declare that:

A. They regret the offensive words, the reproaches without foundation, and the reprehensible gestures which, on both sides, have marked or accompanied the sad events of this period.
What were the reproaches without foundation and the reprehensible gestures of the Catholics? The allegation is vague, and therefore it lacks foundation, and in my opinion tarnishes the good names of those who had to deal with the arrogant Michael Cerularius. In fairness to Paul VI, I did do some digging in this question, but came up empty. Either way, he as the accuser had the obligation to substantiate his accusation by naming the Catholics who were guilty of this charge and proving what he accused them of. He did not.
From my take, at least how it stands now, I believe Paul VI stated a false accusation against these unnamed Catholics who reacted to Cerularius, in order to foster a false peace with Athenagoras. Right from the beginning of this ecumenical crusade in 1965, the foundation was not built upon the truth, neither historical truth or doctrinal truth, and because these accusations were not supported, they were a violation of the 8th Commandment.
Since that time, this "truth" that Catholics were also guilty of the schism and had acted badly, has been thoughtlessly repeated as a truism, not a truth, I am not accusing you, Father, of this, as this truism has been around a long time, since it's birth in the 60's, and many have taken its truth on face value. But, in the interest of truth, this lie needs to be debunked and if there is to be any effort to bring the schismatics back, it needs to be built on the truth. They, if they are honest, must admit the fault of Photius and later Cerularius for aggravating and fomenting this schism, and realize that they and their ancestors were robbed of their inheritance of being part of Christ's Church by these schismatics who selflessly broke away, leading to a 1,000 year schism with no end in sight.