Post by Marya Dabrowski on Oct 6, 2017 15:26:29 GMT -5
www.jhnewsandguide.com/news/schools/parents-upset-by-multiple-choice-answer-shooting-at-trump/article_7da8a197-187c-5b06-b731-bc546b054836.html
Parents upset by multiple choice answer: 'shooting at Trump'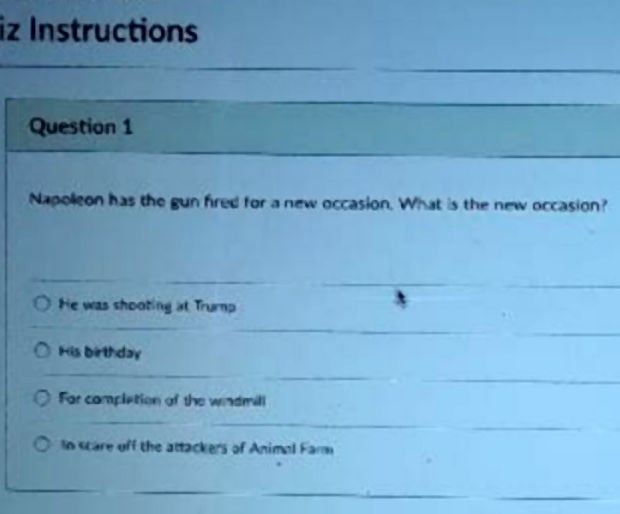 Parents are upset about politics' pervasiveness in the classroom.

One of the answers a Jackson Hole High School English teacher gave her students on a multiple choice quiz Thursday was "A) He was shooting at Trump."

Teton County School District No. 1 confirmed the answer was on a quiz administered online by their secure learning management system. The quiz has since been taken down.

Jim McCollum was surprised when his son Rylee McCollum, a junior, came home and showed him a screenshot of the online test.

"I had to read it two times," McCollum said. "I was like, 'Are you kidding me?'"

McCollum, a self-described conservative who voted for President Donald Trump, said that while he "cringes at some of the things he says," the question was completely out of line.

"It's about respect for the office more than anything," he said. "That's enough of this. No way."

The test, McCollum said, was on George Orwell's novel "Animal Farm." The full question was, "Napoleon has the gun fired for a new occasion. What is the new occasion?"

Possible answers were, "He was shooting at Trump," "his birthday," "for completion of the windmill" and "to scare off the attackers of Animal Farm."

"It was so inappropriate to show a name of a sitting president in that question," McCollum said. "To me, that is so wrong in light of the situation in our country and the divisiveness and all."

In a statement this morning, the district said, "TCSD #1 administration learned late yesterday that a quiz was administered to a class of high school students that contained an inappropriate answer to a multiple choice question. Administration is investigating this incident and verifying the information we have received.

"TCSD #1 takes seriously threats of any kind, regardless of the intent. We apologize to the students, families and community for this incident and will be addressing the issue with personnel."

McCollum graduated from Jackson Hole High School in 1985 and was "born and raised" in Jackson. He shared the question on Facebook, which took off with shares and angry comments similar to his own, as well as a few students defending the teacher.

"To see that in my son's class ..." he trailed off. "This is not OK."

McCollum said that "liberal bias" pervades other classes at the high school, too, leaving his son and other conservative students feeling like "the outcast" and impacting their ability to learn.

"He told me, 'Dad, they crapped on everything I believe in,''" McCollum said.

"Rylee is very patriotic, very supportive of our military and of our country," McCollum said. His son plans to enlist in the Marines unless he gets a wrestling scholarship.

"My kid is full-blooded red, white and blue," McCollum added.

McCollum said that his son Rylee "loves the teacher" who wrote the test, English teacher Carin Aufderheide.

"He thinks she's a terrific person, a nice person," McCollum said, despite knowing she has different political beliefs. "He was really upset that she would do that. He was really disappointed."

McCollum wants the incident to be a learning lesson, not a disciplinary action for the teacher.

"I'm not looking to get rid of anyone's position," he said. "Heck, I've done and said enough dumb things throughout my life."

The timing couldn't be worse to insinuate violence, McCollum said. Stephen Paddock's Sunday night shooting rampage in Las Vegas killed 58 people and injured more than 500.

"The Las Vegas thing still weights on us," he said. "We are absolutely devastated. Just like any other American, we are devastated by what happened."